Visiting eastern korea has been one of the priorities of this trip.
So.. what made me want to go to this part of Korea? A month after I return from my 49 days in Korea back in 2011, there was a new variety show, 铁路次文化, being aired on channel 8. It is a travel documentary, hosted by one of my favourite personalities, Pornsak. What is unique about this show is that it focuses on railroad travels. And yes, Korea was featured as well and yes these places were in my to-do-list since then!
If you're interested, I've found the full length episodes on tudou, mandarin with english subs (hopefully the link remains valid)
http://www.tudou.com/programs/view/N1q_fTl-bVQ/
http://www.tudou.com/programs/view/g86BZPHPn_Y
http://www.tudou.com/programs/view/pp2gGKI3E9Q
Also, I've cut out the relevant parts for my own experience in this video here:
Pretty amazing right? All it takes is just one documentary to start off my adventure!
Alright so if you have been reading my previous entry, after staying one night at Anmyeondo (Monday night) and wasting Tuesday afternoon away due to the rain, we spent Tuesday evening packing our luggage and shifting it from Twin Rabbit Guesthouse at Hongdae to Namsan Guesthouse in Myeongdong. After which, we packed a small bag for 3D2N and went over to Cheongnyangyi Station for our 23:15 train, bound for Jeongdongjin.
(Despite the fact that we were running late, we still halted in our footsteps to take a photo =p)
*CRISIS*
While trying to collect our tickets at the counter, they informed me that my reservation had been cancelled. Prior to the trip. I was trying to retrieve my booking from the website but they informed me that there was "no booking found". However, when I check my credit card transaction, the amount was pending for deduction. Confusion, confusion but I did not investigate further and yes, we were at the counter at 23:00, without any train tickets. After a long and tiring conversation, I gave up and decided to buy another pair of tickets and there were no sitting tickets for like 1/3 of the journey =(
After which, I also asked what do I do if my earlier payment was not refunded. They asked me to call the police. -___-  (Anyway, now that I am back and check my ibanking history, no such deductions were made. Which means that the transaction got cancelled somehow WITHOUT MY KNOWLEDGE and I wasn't even informed of it..)
Thankfully we managed to buy the tickets. Otherwise, my whole eastern korea adventure would never happen as that was already the last train out. *phew*
As seen from the map below, it is a very long journey which involves going down and up again. Last that I read, korail is indeed in the midst of constructing a line which brings you directly from seoul to gangneung, cutting through the mountainous region.
The entire journey by train takes approximately 6 hours, stopping by more than 10 stations.
Well, actually, if you were to take a bus, it is only 3 hours and 30 mins and cost about 4,000W cheaper. The reason why I decided on the train was because we can save one night accommodation and, I kind of enjoy train journeys.
We were (thankfully) in time for the very punctual train. The train was really crowded and we were not the only ones standing. I'm really confused with how they decide on the checking of tickets because we did see people getting theirs checked but not us. It was a tiring 2 hours of standing as we had to stand along the walking path and people just kept weaving in between and I can't really stand permanently on the right or the left side. Moreover, I was being wifi-less and could only seek in the comfort of candy crush.
I spent quite sometime just staring into space, sneaking glances and observing the people on the train. There were couples, friends in pairs, friends in small groups, friends in big groups, families, Just a random observation, I think Korean cliques are usually of the same gender. So as I stood and stoned, randomness just entered my head and before I knew it, our allocated seats have been emptied for us. I was like staring at the couple who didn't look like they were going to pack up. AH. Sitting down was such a pleasure.
We went over to the cafe carriage to get some food. True to the earlier video, their cafe carriage has game stations, norae boxes, etc. I decided to buy a hot bar I think for 2,000W and a Gateau cake from Lotte which was so delicious =p My friend bought their sandwich which was quite nice too. FYI, prices are marked up.. but still affordable.
Don't my bears look so comfortable on their journey?
After eating, it was just short naps with music and just as when I felt like I want to sleep a little longer, we arrived at our destination at about 04:27 sharp.
Approximately half of the people remaining in the train alighted together with us.
Jeongdongjin holds a record for being the nearest railway station to the sea. Thus, many people come to this station to sit down by the beach and wait for sunrise.
This is what the train cafe carriage looks like from the outside.
Timing for sunrise! (1 hour more T_T)
While we were in the train, my friend remembered that in We Got Married, Yonghwa and Seohyun visited this place. They were waiting for sunrise at a cafe but it was raining and they missed the sunrise.
I didn't watch WGM but okay I went to search for that exact episode.
Seems like they took the same night train as well..
For the first link, the actual adventure only starts after 12 minutes.. before that, it's all the fun activities they do in the train.
http://www.dailymotion.com/video/xfay68_sh-ep-10-1-2_lifestyle
http://www.dailymotion.com/video/xfaylp_sh-ep-10-2-2_lifestyle?start=42
Anyway, to get to the cafe, after entering the station from the tracks, and exiting it, turn right and walk straight. You should be able to see that cafe after about 3 minutes of walking.
Their experience is kind of different because they visited in Spring and it was cold and rainy.. I was so thankful for the non-rainy weather.. but then the extreme hot wave came..
Interior of cafe.
My hot chocolate to warm the chilly dawn!
The sky was brightening up and we forced ourselves not to fall asleep! Otherwise we might miss the sunset~~ It was tough but we succeeded!
Took a couple of photos at the balcony of the cafe before heading out.
I was a little worried as from my experience, it is not for sure that you will see an orange ball rising out from the clouds or the horizon.. After all, the sunset at Anmyeondo didn't happen too.. the sky just darkened without any glimpse of orange ball.. *crossing fingers*
By the way, I think this was the only cafe open at that timing of the day.
We walked back to the tracks at the station.
It's a pretty amazing sight to see the sky lightening up.. From my years of experience. The sun rise timing isn't a magical number. It is something that takes place very, very, very slowly. Slowly, but surely.
FYI: Most photos for my east coast korea were taken on my iphone5 as i forgot to charge my canon battery prior to the trip =/
Finally, after a 6 hours train journey plus an hour of waiting.. we finally saw the moment.
This orange ball started rising up from somewhere above the horizon, far away into the ocean.
I love the reflection on the sea. Beautiful sunrise.
And it gets higher and higher and brighter and brighter.
After sunrise, the crowd started to clear up..
Finally, I guess after about an hour or less, we finally decided that we had enough of the sunrise and we started walking around to look for accommodation.
Some ajjuma caught my friend's attention and I guess 40,000W was very reasonable for a room with a sea view. Initially, she thought that we were not staying the night.. then she increased her price to 50,000W and being in half zombie mode, we didn't really care.
The view from window was terrific! (Yes this was the view)
My friend was attracted to the wallpaper. LOL.
We took a nap for about 1 to 2 hours and of course took a bath before setting off again.
We had lunch at the restaurant at the bottom of our motel.
There was an obvious absence of cabbage kimchi which is something that i really like.
We didn't know what to order, so we just asked them for their recommendations and we got two soup dishes. I'm not exactly a fan of beansprouts but well I had to eat it anyway.. Mine was some bony fish remnants in my soup.. which was really bony and it kind of annoyed me.. It was 7,000W each. A little steep but we were hungry.
The weather was so hot that we just had to get ice cream. If I'm not wrong, it was 1,500 to 2,000W which was way overpriced =( Then again, we were kind of in a touristy area.
Despite asking for directional help, we couldn't find the bus stop or we missed the bus and the heat doesn't solve the problem either. we resulted in taking a cab (approx 4 to 5k which i believe we were overcharged) up to the sun cruise resort and park. It is listed as one of the most unique accommodation by CNN and it has been getting a lot of attention lately. This is one ridiculous project but that's what makes it really special, with a unique selling point.
We had to pay 5,000W for entrance to the park and hotel premises. It's quite a good location for photo taking. Totally worth the 5,000W. I don't understand the reason behind the hands in Korea. Previously there were hands at  Pohang as well.
This cruise is built on top of a hill/cliff and it is really steep. Let the photos do the talking.
Do you see the railings at the left side with the glass flooring?
Take a step of courage, and you will find yourself standing beyond the age of the cliff, supported by only steel and glass..
And this is your view when you look down.
The aim of this photo is to show that the cruise is seriously resting off the cliff. They can actually hold a bungee jumping activity at the tip..
This is another view of the railings that we were standing at earlier on. To get down, you have to walk down the stairs from the pavilion as seen at the top right.
There were stairs to go down further but the gate was locked =(
Hands again!
and this was their |random| sculpture park at the other side of the park.
Another drama filming spot? But seems like that place doesn't exist anymore. It was year 1998 and I believe it had been a train cafe.
Yes we are very high up.. and everything looks so cute from up here.
This is what the jeongdongjin station area looks like. It is within walkable and we did eventually walk back.
What the pool looks like.
And here comes its museum which I took photo of everything in case anyone is interested. It shows the entire building process from the beginning to what it is today.
I will try my best to interpret it based on intuition. My korean knowledge is as good as none.
So back in 1995, they had an idea of building a hotel in the area and as you can see at the top right corner, the hill was empty. For the fact that it was a hill, the plot of land shouldn't be expensive.
Early construction phases? and the train cafe which had been featured in a drama back in 1998.
View from the deck of the ship.
The lovely mountain contour lines.
You see the revolving thing at the right side? It is a revolving sky lounge where you can have drinks at. This is a very awesome place and we even got 20% discount by showing our tickets! We didn't realize it was revolving initially as it was moving really really slowly. But once we discovered.. we wanted to stay even longer! If I'm not wrong, a full round takes more than an hour?
View from the panel.
After tea at the sky lounge which we comfortably settled in with the blasting air con, we had to leave too.. to continue exploring the other parts.
Well, we found a stairs which will lead us down directly to the beach we saw at the bottom earlier on and base on my analysis, I believe there was a through route back to our motel back at the station.
It was a long journey up. Probably thrice as difficult if we were climbing it. There was no one there to check on your tickets so technically you can actually walk up (not an easy feat) and enter for free! However. my friend did manage to see a sign which warns people against entering the hotel from this steps. This path was supposedly to only be used by residents of the hotel..
As we were climbing down..
At the bottom!
You see the small ship? It is another cafe which we were too lazy to walk to..
Anyway, if you are wondering.. why didn't I stay at the sun cruise hotel? It was far too expensive (approx 150 to 200 SGD – peak season pricing) and inconvenient to book. If you own a korean credit card, you can try it out and I think it would be a very lovely place to stay in.
Apparently one of the rumoured reason behind this cruise was that they wanted to create an affordable cruise experience for people who could not afford the real thing. I guess the owner must be really a fan of cruise.
We were making our way towards the sunrise park!
This is a really large sun vial which I can't seem to see the shadow to tell the time.
This is the hourglass which had been featured in the variety show earlier on.
This hourglass is built here to celebrate a new millennium of peace and coexistence. It is an embodiment of our profound yearning for a better future.     and to Apparently each and every grain of sand inside has been painstakingly selected. The sand at the top represents the future, while the sand having fallen to the bottom represents the past. The trickling sand falling at the moment represents the flow of time. The golden circle represent the sun rising from the east sea and the blue coloured glass represents the east sea. The parallel train tracks (where this circle lies on) represents the eternity of time. It recalls the past while conveying our wishes for a better tomorrow.
It was constructed in Nov 1999, just in time for the millennium. If this hourglass is working well, it will reset itself (roll back) on 1st January every year.
This is a time museum in a train which was ticketed and we didn't go in.
A random lake or canal which shows the reflection of water.
And then we started to walk further and further away from the cruise hotel..
Since we weren't hungry yet, we decided to go back to our motel and rest a while before heading out for our shellfish dinner! We walked and walked and walked, and found ourselves back to the direction of the sun cruise area.. Finally we decided upon a restaurant which charged us about 40-50,000W for 2 pax. (There's a reason why I can't remember the price)
Side dishes with the notable absence of kimchi =( I don't think people here serve kimchi?
Ahhh! The start of our shellfish dinner <3
It started with the scallops which were so so so so juicy!
Anyway, so I was mentioning that I couldn't remember how much this dinner cost.. the reason was that.. someone from the next table paid for our bill!!!!!!!
IT WAS SO FREAKING RANDOM. THEY DIDN'T TALK TO US AT ALL, NEITHER DID I EVEN TOOK NOTICE OF THEIR EXISTENCE. The ajuma of the restaurant just came over to us and blabbered korean and I thought she wanted us to pay so I touched my wallet and she was like no no no no no.. and after my friend deciphered what she said.. it turns out to be that someone has paid for our bill!! Apparently my friend saw that the ajuma pointed to 2 ajussi leaving in a car but i didn't see them. and so.. our most expensive meal for the whole trip was for free D:
I don't know how often such things happen in Korea and yes we were deeply in shocked because we didn't even have time to thank the people who paid for us =/ My only conjecture was that both ajussi were fighting to pay for the bill and guy A managed to pay it and guy B felt bad that he didn't pay so he decided to pay for us?
Well, I remember that I had a free dinner back in 2011 at Andong where we had dinner with a random person we met at the bus stop. Back then, we actually ate with him and treated him ice cream in return but this time round it was like, just free without a reason. weird weird weird. but we were so grateful for it..
We decided to donate one pack of our sparkles to the ajumma's children who were working diligently at the restaurant. Actually I don't know if it was a good decision. For them who have probably lived by the beach their whole life, they probably had enough of such things.. hmmfph.
Alas! After dinner was the start of our mini fireworks festival. We had a bunch of leftovers from Anmyeondo which I insisted on bringing. We bought a (hopefully better) lighter from 7-11, found a nice spot at the beach, prayed for a windless moment and off we go! We played both sparkles and fireworks and I'm currently still waiting for my friend's photos where we attempted making alphabets with sparkles.
Since I was the primary lighter.. I dont have much photos.
Night view!
Our stash of fireworks finished very quickly once I discovered the method and.. I decided to win more fireworks! (I don't know why but I have a thing for "winning")
We took part in a carnival booth, paid 10,000W and threw darts to the balloons.
and yahoo! We walked away with 4 rather high quality roman candles fireworks, instead of a toy.
Here's a video of the fireworks, simple and short but the feeling is amazing.
https://www.facebook.com/photo.php?v=468828006549078
THEN, my friend can't forget woobin & jongsuk's face on cass poster.. and we went to this karaoke place which had like a lot of his posters hanging around. Well, she managed to get the poster! The uncle was tearing it off carefully from the table. Wow =p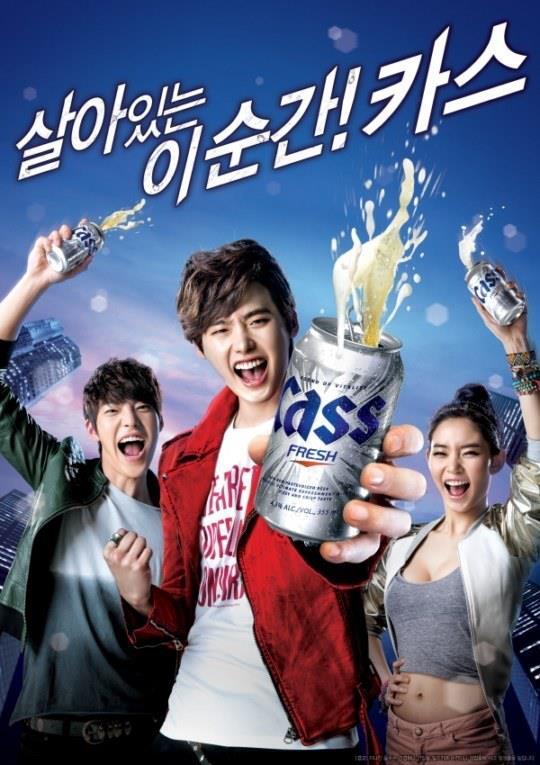 We stayed on for a drink, watching the koreans singing and dancing. I'm really impressed with their courage to stand in front and sing..
It was a good experience and  50% of me was afraid that they were notice that we were foreigners and try to disturb us.. thankfully they left us in peace.
There was this girl which really WOW-ed the audience. She could shake well to every single songs and her dance moves were very daring and she performed really well! Maybe she dreams of becoming a star some day?
Anyway, along the beach, there were random swings that we could just sit on, and stare at the ocean.
Made our way back to the motel, bathed and out were we again, this time for wifi. Earlier in the day, I discovered that there was wifi at the bus stop =/
So, at 1am, we were out on the streets using wifi. This time round, another ajussi (taxi driver) started talking to my friend. I couldn't communicate due to my poor command of korean. He was there waiting for a customer who called for his services, which eventually didn't turn up? He also offered his insect repellent when I was complaining about the mozzies. It was quite effective. After about 30 mins, he went to re park his car and reclined his seat to sleep/rest.
By then, we were almost done with our wifi usage and then I was like a little hungry, so we took about 10 steps away to the nearest family mart. Initially, we were contemplating whether to say bye to him but then I was like we shouldn't wake him up?
I bought a bulgogi burger which was rather delicious and only 1,000W!
Anyway, the funny thing is that when we left family mart approximately 5 to 7 minutes later, ajussi's taxi/van was gone!! There can be two reasons, (1) the supposedly customer he was waiting for did eventually come approx 45 minutes later and he drove off. (2)  He was just hanging around close by to watch on us (safety reasons). Mystery, Mystery but option 2 does sound legit in Korea. People can be exceptionally kind and random (like our free dinner =p)
The following morning, I set an alarm to wake up at sun rise but what I saw from the window seems like yesterday so I took a photo and crawled back to bed and continued sleeping.
We couldn't really sleep in as we had a train to catch at 10:55.
We bid farewell to the motel ajummas and went in search for brunch.
Friend had a craving for seafood pancake. I decided to try the famous tofu. It was alright, but kind of overpriced for just tofu. heh.
From this picture, it doesn't look that big but oh gawd in reality it is humongous.
The ingredients were really good! Oysters and squid!! and they don't have excessive spring onions which I don't fancy.
After the extremely full brunch (I don't usually eat so much for breakfast), we made our way back to the station. It's really pretty now that the sun is fully up in the sky.
Another drama filming location, for Beethoven virus which I have yet to watch.
In photos, it does not look that hot but in reality i was dying from heat.
I've created a video from my phone which resulted in the poor resolution but you can take a look! It contains some video of what I saw from the sea train.
Yes this sea train is on the top of my list in eastern korea!! The booking process is very simple. The toughest part is the payment. My friend had to go down specially to a korean back to do the cash deposit. But all that hassle was worth it! This train is usually fully booked and we were lucky to get 2 places in the first row.
All the seats are facing one direction and the windows are exceptionally larger compared to other trains.
Inside the train, you are able to SMS (Korean number) and request for songs!!! My friend made a request for SHINee's Aside and they really played it! Also, there were games going on inside the train as some parts of the journey did not have much scenery e.g. tunnels. The koreans were all very enthusiastic and I can only stare blankly at space due to the language barrier.
The interior of the carriage is decorated with marine animals. A very small but important detail of the train.
We alighted at the final stop of the station, Sam Cheok.
You see the heart shapes? It's the proposal carriage! It is commonly used for people to do proposal and it cost 50,000W which I think it is rather reasonable for that private space and view.
So, we were greeted by a windless and cloudless Samcheok.
According to the maps, there was supposed to be a bus stop opposite the train station. We did see a sign which could possibly look like a bus stop so we waited and waited but we were unsure of what we were waiting for. I guess after about 20 minutes of that unbearable heat, we decided that we should just give up and take a taxi to the bus terminal area which was supposedly less than a 10 minutes drive away.
Taxi ajussi asked us where we were going and we said we were going to look for accommodation. He said that the motels surrounding the train station were more expensive and drove us to a place slightly further away (I don't know why he made that assumption that we were willing to walk further T_T)
After random motel-hopping, we finally settled for a possibly sleazy motel. It's called feel motel. what do you expect? Despite having such a ____ name, the motel owners were like grandparents maybe in their late 60s early 70s.
We didn't want to commit to a room too early so we wanted to just take a look at the room. She wanted to charge us 60,000W and we were like no it's too expensive. Then she said, if we would go for the rooms without a theme aka the more family-styled room, it would be 50,000W. She invited us into her reception area (which was their bedroom), to blow air con. I was fanning myself non-stop while standing at the lobby. Seeing them being so hospitable to us, we gave in and just took the 50,000W room. It was simply too hot to roam around further =/
The room was oh-kay. A far cry from the ocean view room we had before. The first thing I did was to blast the air conditioning the moment we entered. That's one flexible thing I like about these motels. We can usually check in earlier without extra cost, provided there are room availability.
Once we cooled down a little, we decided to set off again.
We walked about 8 minutes to the bus terminal where there will be a tourist information counter. Sadly, we met with their lunch hour. We seek refuge inside the bus terminal (somewhere with shelter, wifi and a convenience shop) and I ate an ice cream to cool down.
After the tourist info counter was open, we went in and the strong air conditioning was such a blessing =p It made me not want to leave. There was another Caucasian girl (teaching english in Jeonju) asking for help too. She needed help in ensuring that her pension at Yonghwa beach was booked.
I wanted to get the tourist info counter to check if there was still availability for Sam Cheok rail biking. This was even harder to book. I tried to seek KTO's help in the booking but they replied me saying that they were not allowed to assist with bookings and that I should seek help with a korean friend or call them for reservation. None of the solutions were feasible so we had no choice. Well Well, as expected, the rail biking was full and she suggested that I should go for the weekend tour instead. Sadly, it wasn't feasible as we were leaving tomorrow morning.
Well, there aren't much attractions to visit in Sam Cheok and the attractions are not near anything at all. So we could only decide upon going the Haesingdang Park aka Penis Park or The Caves. The staff told us that there are no public transportation between the two places and taxi was gonna be expensive.
Then, she showed us the bus schedule and timings. There was only one bus per hour. (Seriously how do the locals survive with such infrequent bus schedules..)
If I'm not wrong, we took the 14:00 bus and 1,600W was pretty steep.. We had to pay the amount in cash as they do not accept t-money card. The journey on the bus was bumpy and dizzy and fast and furious =/ Luckily, the bus driver saw that we were indeed foreigners, reminded us when we reached our stop. We didn't even tell him anything. I guess he assumes that most tourists were going to Haesingdang park.
We got down the bus and GAWD THE SUN WAS SCORCHING.
I'm sorry if that me complaining about the heat annoys you.. I guess it's been a long while since I had such long exposure with the sun. Heh.
The beautiful scenery cooled away half of my annoyance.
Alas! I was finally the second most ridiculous place of my trip. A park full of phallic sculptures.
Legend is said that there was a virgin who drowned in the sea and the fishermen harvest became very poor. Then one day, a fishermen peed into the sea and suddenly all the fishes came back.
So from then on, the started to erect these sculptures, hoping to please the virgin. Even today, religious festivals are still held to commemorate this legend.
I suddenly recalled a conversation I had with my friend.. Wouldn't it be awkward if you're visiting this place as a couple o.0
The virign.
By the way, there are two entrance for this park. One at the top and the other from the bottom. We entered from the top and we will be walking down to the buildings below (Yes it is quite big)
As seen from photos, it is rather empty.. I bet it was more than 35 degrees that day. Even the wind blows hot air.
Please don't get offended with the photos.. I'm trying to just show everyone what's there..
Finally, we reached a building with air-conditioning…
And then there was this whole exhibition on how sexual worship had been prehistorically recorded by people from the ancient world. Not just in Korea, but the whole world. (Photos censored)
So this is what divers looked like in the past.
From the building, we took a lift down to the coast.
How I wished I've wore slippers that day. Would be lovely to just wade inside.
There was a temple where you can give prayers to the virgin.
This is what you have to climb if you entered the park from the bottom.
So when we decide to leave, we realised that we have just missed the once per hour bus and we settle down somewhere for lunch. It was fresh fish but I didn't know what I ate.
Ajumma recommended this for the terrible weather and it wasn't cheap! If I'm not wrong it was 15,000W but it was okay because there was so much fish.
I wanted to walk all the way to the red lighthouse but it was too hot and time was running out, to catch the bus or risk waiting another hour.
The bus stop was quite far away, far from the supposed 5 minutes walk as mentioned by one of the locals =( We almost couldn't made it in time and we were running out to nowhere. Thankfully, the bus was late and we managed to board it.
Off we went, to Yonghwa Beach, as recommended by the Caucasian lady earlier on. She said that Yonghwa's beach is the most beautiful beach she has ever been to.
Yonghwa was also one of the start/end point for the ocean rail bike which we could have gone for.
It is a crescent-shaped beach.
Couldn't resist the temptation of not entering. I bought a severely overpriced slippers for 5,000W and paid 500W for a plastic bag -_- and off we went, into the sand and the sea.
The waves are very light and tapping softly against the sand.
Big and ugly foot prints =(
And we watched the sun set, from the mountains, not the horizon, as this is the eastern coast.
Well, half the people in the water were looking for dinner. There were boys with snorkeling gear and life jacket looking for clams/shell fishes. There were uncles diving in and out in search for food. We, couldn't sink fully in as we had no change of clothes =(
Along the coast, there were BBQ pits setting up in preparation for dinner.
The water is so clear, even up to knee depth.
And the skyline only gets prettier.
We couldn't stay for too long, we had a bus to catch. This is what a bus stop looks like.
The bus was running, very, extremely late and our bus stop was just filled with people, all questioning the arrival of the bus.. We waited from bright skies to dark and by the time we reached SamCheok city, it was totally dark =/
I didn't know why happened but we took forever to decide dinner that night. I ate my first and only Baskin Robbins for this trip.
And we took away mr pizza, which was formally endorsed by 2pm.
Can't remember what happened that night but I know I was gibberish and fell asleep very early. *Dead tired from the extreme heat*
The next morning, we woke up bright and early, wanting to get out of this place in the quickest time possible and of course return back to Seoul. We were done with this town with a could be improved public transport system =(
Not forgetting my favourite bulgogi burger for breakfast!
We were early right? We took the premium bus (3 seats per row)
With 3 to 4 hours bus journey, I finally concluded by 3D3N adventure to the east coast. There were many other places and towns I could have visited but there wasn't enough time.
Initially, I wanted to cover Ulleungdo but that trip alone needed 3D2N and my itinerary was already packed to its brim =(
The conclusion: East Coast Korea isn't really ready to receive non-korean speaking foreigners yet. I guess their initiative (for now) is more of just attracting local koreans to travel to places within korea. The english signs are still very limited and public transport to tourist attractions still remains infrequent and still need a lot of improvements. Likewise, booking via international credit card for most places is still not available and this will be a significant problem especially if you're traveling in summer. I guess most most most koreans drive anway. However, if you are adventurous and have a bucket list to strike off, these difficulties shouldn't deter you!
Eastern Korea really have very beautiful beaches and sand and people. The pace of life is definitely much more relaxing and slow and sometimes the inefficiency helps in training your patience.
Step out of your comfort zone, sometimes it's good to go on an uncertain and semi-anyhow whack trip. Planning too much isn't always the best plan.
You can follow my footsteps, but of course not everything (That's why my footsteps are blurred)! You need to allow some flexibility and freedom for the wrong things that will happen in your trip and these moments will make your trip more memorable 😀
Stay tuned to my next entry and leave a comment if you're free. I would love to hear from YOU!
Do check out my other entries in the series as well:
Stay tuned to my blog and remember to like my
 facebook page
 for more updates!